A 17 yrd old black teenager was shot and killed in a parking lot by a Hispanic man who was the head of the local "block guardian" group, and had a carry permit. A furious uproar, amongst the nations blacks especially, has ensued.
The Supreme "Race-Baiter-In-Chief" Himself: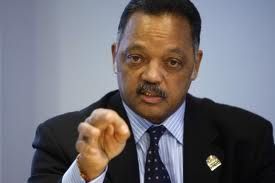 Rev Jesse Jackson: "BLACKS ARE UNDER ATTACK"
The local police chief has stepped down during the investigation and no arrest has been made. Blacks all over the nation are in an uproar to say the least. Our commander in chief issued his thoughts on it yesterday, along with other prominent figures. The Black Panthers have issued a "Wanted Dead Or Alive" poster for the shooter.
......"President Barack Obama weighed into the controversial killing of a black teenager in Florida in very personal terms on Friday, comparing the boy to a son he doesn't have and calling for American "soul searching" over how the incident occurred".......
......"In Sanford, ., the city's manager, acknowledged that tensions between the black community and police "go back many, many years." "The trust that existed is gone, so we have to start from ground zero," he said. Sanford's police chief and a Florida state prosecutor overseeing the case stepped aside on Thursday as criticism grew over the police handling of the investigation".......
[url=http://www.reuters.com/article/2012/03/23/us-florida-shooting-obama-idUS... Article[/url]
Louis Farrakhan: ........"'Where There Is No Justice, There Will Be No Peace…Law of Retaliation May…Be Applied'"........Nation of Islam leader Louis Farrakhan has been among the vocal voices weighing in on calls for justice for Trayvon Martin, an unarmed 17-year-old who was gunned down last month while walking home in Sanford, Florida".......
[url=http://conservativebyte.com/2012/03/farrakhan-tweets-where-there-is-no-j...
John Hindraker of Powerline Blog: ........1) For liberals, it is always 1962, and we are always in Mississippi. Unfortunately, however–from their perspective–it isn't 1962, and the problems we now face are far more complicated and harder of solution than the problems of the early 1960s. .............So any time something happens that allows liberals to pretend that the 1962 template is operative once again, they rush in. Hence Al Sharpton, Louis Farrakhan, etc., politicizing the shooting of Mr. Martin; and Barack Obama, too".......
[url=http://www.powerlineblog.com/archives/2012/03/thoughts-on-trayvon-martin...
It is a tragedy, in many ways, yet the facts are not yet in and summarized. Attempting to paint this as a 'racist" act seems way overblown. Would the black community be as outraged as they are if the victim had been white? I think not. But one cannot miss an opportunity to make political hay when one comes along. In urban areas very high percentages of crime are committed by young black males, out of proportion to their part of the population. Law enforcement, and civilians in general, have become suspicious of young blacks in high-crime areas, whether we like it or not. 50 yrs of constant redistribution of wealth to large elements of the black community via the "great society" programs and many others, have helped to destroy the black families and black culture in many inner city areas of the nation, the root cause of much of this, and the very thing that allows Jackson, Sharpton, Farrakhan and others to make political hay out of a tragedy such as this.
Where will it end?
WC